A New Way to Good Health
I am a cyclist. For twenty years I was a professional involved in this beautiful sport. I won an Olympic silver medal and two world championship medals. I was the first Polish cyclist to turn professional. I competed in the Giro d'Italia and the Tour de France many times. Throughout my career, I won around 200 races. Currently I organize the biggest cycling race in this part of Europe – the Tour de Pologne, as well as many other cycling events for amateurs and professionals.
Recreation
Diet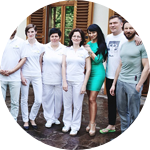 People
About us
Czesław Lang's ecological farm has been in existence since 2006. It is located in Barnowo and Poborowo in the Kaszub hills, surrounded by forests and lakes. Altogether there are about 700 hectares of land, on which grow: green rye, oats, spelt, buckwheat and lupine, as well as grasslands, the staple diet for the farm's sheep and horses. There are also plans for organic cultivation of vegetables – including potatoes and carrots. About ten people are permanently employed on the farm.